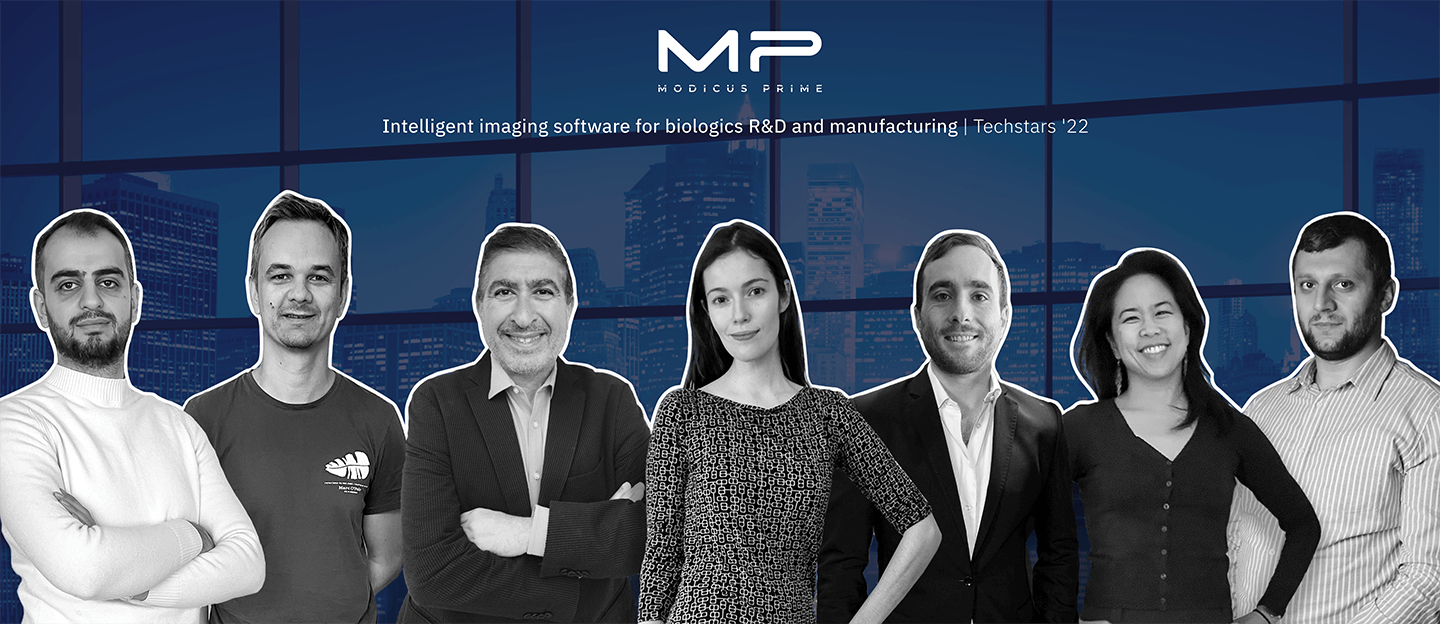 Modicus Prime Team News
Get to Know Us! A Q&A with Modicus Prime's Leadership Team
Over time, a company's logo builds its own reputation. For a thriving technology company, a reputation built on trust, human centricity, and respect is crucial. And the wholesome ingredients for a company's good reputation are great people. The Modicus Prime Leadership Team is behind every pharma customer we serve. It's important that our customers get to know us just as we get to know them.
---

Taylor Chartier - Chief Executive Officer
Vitaliy Kucheryaviy - Chief Technology Officer
David Vardanyan - Director of Engineering
Arsen Gevorgyan - Director of Quality
Qiao Huang - Lead Computer Vision Engineer
Edgar Kakoyan - Director of Design
Jack Topdjian - Advisor and Investor
---
What made you decide you might like to be part of Modicus Prime?
David: I believe that the automation of tasks is the key to making our daily tasks more productive. Everything that can be automated should be automated. And what can be better then applying that approach to extremely challenging tasks in the life sciences industry?
Vitaliy: The pharma industry has often been perceived by me as old-school in terms of computer technologies. And now, with Modicus Prime, it looks like an opportunity to be at the edge of AI transformation in this area.
Arsen: Here are some factors that made me become a Modicus Prime employee: opportunities for growth, an innovative environment, impactful contributions, and a positive working environment with supportive colleagues.
Working for an organization that makes a meaningful impact in its industry or in society as a whole can be very fulfilling.
I think Modicus Prime will be known for making a significant difference. - Arsen
Qiao: AI technologies are young, Modicus Prime is young, and we are young, too, which means you will experience a lot of new experiences when you are part of us.
Edgar: First of all, how about the team behind this amazing product! Our team is made with amazing people and professionals with astonishing dedication, motivation, and uncompromising trust and honesty.
Secondly, I truly believe in the product and idea itself. Modicus Prime is reinventing the way we automate, not only saving thousands of hours of work but also increasing the quality of drug production to previously unreached levels - all with simple-to-use desktop software.
Taylor: Right place, right time - AI is picking up momentum in the pharma space, so I wanted to give my former pharma colleagues Self-Service AI tools to deliver drugs more safely to patients!
What is your favorite contribution to the product, mpVision?
David: Encapsulating the complexity of machine learning algorithms behind an intuitive and self-explanatory interface to empower scientists to harness AI's full power at any scale is amazing. Helping scientists operate on the level of machine learning experts consistently motivates me to enhance the product.
Vitaliy: Making the system highly performant and cost efficient at the same time is a very interesting and challenging task that I'm working on.
Arsen: In my role, I actively strive to create products that are bug-free, focusing on delivering a seamless user experience that leaves our end users satisfied.
Qiao: Squeezing out the most cutting edge algorithm and sharing it with our customers via our product.
In the Pharma industry, most of the softwares are very complex with a lot of interface elements and buttons - similar to an airplane control dashboard. My aim is to design and ship a product that is naturally easy to use, does not require hours of learning, and is pleasing for the customers to use for day-to-day work. - Edgar
Taylor: Hearing scientists tell us exactly what they need to improve their drug product quality is a blast. I love translating client requests into software features.
While being part of the Modicus Prime team, what else are you passionate about in your daily life?
David: The most recent passion I have developed is a huge interest in Cognitive Sciences paired with philosophy. Together, this combo really helps you to look at life at a bigger scale and not to get caught up too much in the daily routine.
I'm passionate about contributing to open-source projects. I believe in the power of community-driven development, and I've been fortunate to be a maintainer of the Django Ninja project. It's not just a hobby; it's a way for me to engage with a global community of developers, share my expertise, and help shape a tool that empowers others to build amazing applications. BTW, Modicus Prime's API is also powered with Django Ninja. - Vitaliy
Arsen: While being part of the Modicus Prime team, my passions extend beyond the professional realm. Outside of my role, I find great joy in pursuing hobbies that include beekeeping, where I nurture colonies and contribute to pollination, as well as teaching Quality Assurance (QA), which includes sharing my expertise to ensure products and processes meet the highest standards. These pursuits not only enrich my daily life but also align with my commitment to excellence and the well-being of our environment.
Edgar: Right now, I'm in full wedding planning mode during my free time. But usually I always love learning new things and watching videos on entrepreneurship, investing and finance.
Qiao: As a father of two kids, outside of my office time, I am learning from my kids to keep curiosity of everything new and enjoy making new friends.
Taylor: Participating in UFC fan events and following fighters through their careers is enjoyable. Read our article Fighters and Founders for more about how fighters and entrepreneurs share common threads!
What is your favorite part about the people and work culture at Modicus Prime?
It is a great pleasure to work with excellent professionals, and it is just amazing if they are open to sharing knowledge, thoughts, and their perspectives in a way that makes you extend your views and grow both as a professional and a human. That is how our team is, and it makes challenging tasks a joy to work on. - David
Vitaliy: My favorite part about working at Modicus Prime is the diversity of the team and the wealth of talent and background areas among my colleagues. I think it's a perfect "melting pot" to make something great.
Arsen: My favorite aspects of the people and work culture at Modicus Prime are the collaborative decision-making process that encourages diverse perspectives, the collective pool of professional expertise that fosters continuous learning, and the genuine friendships formed among colleagues, creating a supportive and inspiring environment.
Qiao: When working at MP, I really like people brainstorming new ideas and respecting each contribution, and I also enjoy the moments when our customers enjoy our products from the looks on their faces.
Edgar: These people are amazing colleagues, friends and professionals! We are all so open to learn from each other. We have positive vibes in every meeting, aren't afraid to take on new challenges, and help each other out while turning goals into reality.
Taylor: These folks are not only professionals - they are amazing human beings who respect one another's talents and are building great products together. Our culture is effortless, refreshing, and inspiring!
How do you feel about working remotely with the team - any challenges?
David: Modern technologies provide remote teams the opportunity to stay connected as if they are in the same room, meanwhile allowing team members to craft their own personal working schedule. The challenging part is to grab a beer or two together!
Vitaliy: I have been working remotely for 10+ years, so no challenges for me :)
Arsen: Working remotely with the team is great for my work-life balance, allowing me to manage my tasks and personal time more flexibly. But there are some downsides, too, like not being able to chat with colleagues in person, missing the office vibes, and dealing with time zone differences that sometimes slow down collaboration. Oh, and I definitely miss fun Friday night hangouts.
The remote working experience is great, and it makes our daily schedule more flexible. I wish more and more people will have the option to experience it. - Qiao
Edgar: I have been working hybrid and remote for over 5 years, so I'm quite comfortable with it! It gives me the flexibility I need to create my own schedule and control my daily tasks.
Taylor: The company has international roots and remains quite global in both its team and customer base. As citizens of the world, we should all learn how to work together…we strive to keep our collaborations during waking hours in both eastern and western hemispheres.
About Modicus Prime
Modicus Prime's computer vision software automates biologics image analysis and is designed to solve for the cost, legal, and waste liabilities from product quality failures across R&D and manufacturing. Modicus Prime is venture-backed and has strategic partnerships with organizations including Takeda Pharmaceuticals, J&J JLABS, Oak Ridge National Laboratory (DOE), eLabNext (Eppendorf), Dotmatics, PlugandPlay Health, and Techstars. Our proprietary GxP-compliant software, mpVision, enables scientists to independently train their own AI to achieve real-time classification of any imaging data - from biologic morphology analysis to commercial contamination detection – for comprehensive quality control across R&D and manufacturing. mpVision has been globally tested by scientists at Takeda Pharmaceuticals, and its features are mapped to the unmet needs of the pharmaceutical industry, including real-time product quality assurance, full agency compliance, faster go-to-market, and reduced operating costs.
To learn more about Modicus Prime, please visit https://modicusprime.com.